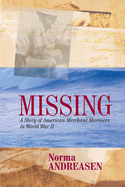 By Norma Andreasen
ISBN 9781466485426 Self published 2004
This book is a good example of why we don't normally review self-published works. The text changes font, websites are reference with hyperlinks not taken out and the research is somewhat lacking.
While the book is an attempt to record the disappearance of tanker Esso Williamsburg in 1942, it tries to be an homage to the US Merchant Marine in general during the Second World War.
Good selection of photos, but the reproduction was not very good. In the text, destroyer HMCS Kootenay spelled Skootenay. Ships of Convoy 101 - research on the convoy would have been nice.
A real disappointment, this book presents like an essay from a high school freshman.